20 Advantages of an Online Tax Course vs. a Live Tax Class
By
Chuck
|
September 19, 2019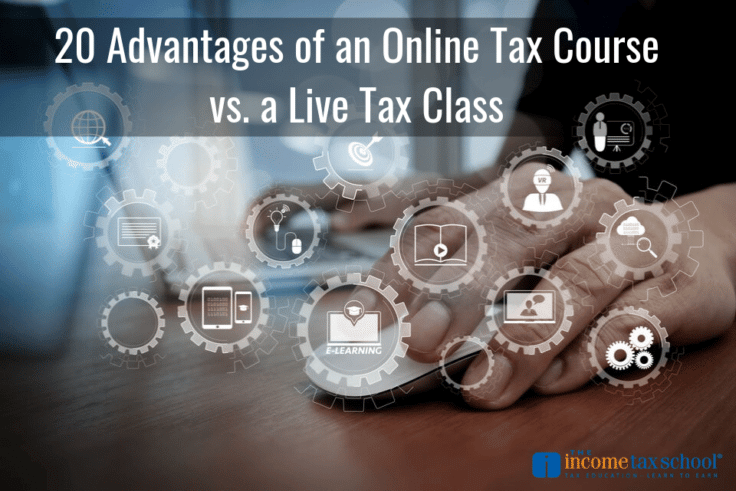 eLearning is the greatest revolution in education. It has created radical changes in our education system and opened great opportunities for everyone who wants to obtain more knowledge or learn new skills. Here are some of the advantages of learning tax preparation online.
You can learn whatever you want! The great variety of online tax courses, CE seminars and even certificate programs leading to professional credentials is a huge advantage of eLearning. It doesn't matter where you live and what you want to study – you can always find a suitable course. Tax preparation can be learned online and is a profession that is portable as it can be provided from anywhere.
Comfort. You won't be sitting in an uncomfortable chair in a live classroom. Instead, you can relax in an easy-chair or sofa in the comfort of your own home. And you won't have to get up early to get dressed for class. Just grab that cup of coffee or tea and start learning.
Convenience.You can study and work at your own pace. Required course material is readily accessible online. You will not have to spend time or money commuting to class. Simply read the text, view any explanatory videos, and complete assignments electronically, with no need to fight traffic, leave work early for class, or miss important family events.
Flexibility. Online courses give you the opportunity to plan study time around the rest of your day, instead of the other way around. This enables you to balance work and family commitments with your education. You have the freedom to balance your career and education because you are not strapped to a fixed schedule of traditional classroom courses. Most eLearning students have other commitments, and online learning enables them to allocate their time efficiently among different activities.
An online certificate or professional credential looks great on a resume and to your clients. Check out The Income Tax School's Chartered Tax Professional (CTP) certificate program that can be earned online. Once you earn this impressive credential, you also receive a framed certificate that you can proudly display on your tax office wall.
Self-paced learning. You can start at any time and arrange a study schedule that meets your individual needs instead of attending live sessions at specified times and locations. With The Income Tax School, you can access the student text and resources at any time. If you need to work or take care of your home and children during the day, you can study at night. These are advantages live classes cannot offer. Students in online programs can effectively manage their time, learn the materials, and complete assignments on their own schedules, anytime/anywhere 24/7.
Lower costs. Online programs are less expensive compared to live classes. The average fees for online courses are typically much less because eLearning delivery costs are significantly less expensive. Payment plans are also available for courses and certificate programs from The Income Tax School. There are no commuting costs, and all required course materials, such as student textbooks and other resources, are readily available online at no additional cost at The Income Tax School.
Variety of courses and programs. eLearning offers scores of options. For example, The Income Tax School Course Catalog [https://www.theincometaxschool.com/shop/] lists more than 60 tax eLearning options ranging from 1-3 hour CE seminars, to 20-60 hour courses, and 75–165 hour certificate programs leading to professional designations.
Greater ability to concentrate. If you're like most of our students, you may find you are able to concentrate better in online classes due to the elimination of classroom distractions.
Career advancement. You can take online courses and even complete entire certificate programs while you are working, in-between jobs, or taking time to raise a family.
Continue in your profession. The flexibility of online education enables you to keep working where you are while also pursuing a new career or professional credential.
Improve your technical skills. Even the most basic online course requires developing new computer skills, as you learn to navigate the learning management system (LMS). The participation skills you learn within your online tax courses are relevant to many professions.
Active Learning. You can be physically present in the classroom, but mentally absent, and no one would know. But in an online environment, you must be mentally present to progress toward the learning objectives. Most people express themselves better in writing than verbally. Your instructor will provide feedback on your own schedule. This creates a self-paced learning environment. The quality of written dialogue often proves to be better than live discussion because we reveal more and formulate better ideas, when we write. In an eLearning environment, reading and writing are the main activities. Interacting with an instructor requires writing skills that portray the message accurately.
Greater self-direction and discipline is required for online education. You have greater responsibility to learn rather than to be taught. You must be conscious of your time and schedule to meet deadlines to which you have committed by enrolling in the course. A traditional learning environment, however, does not require the same degree of self-discipline.
An online environment develops tech savviness. You must be able to navigate, evaluate and obtain information using a variety of technologies. You must be able to use basic word and quantitative software. You will be prepared for the dynamic technical environment and strive to enhance your expertise in using technical tools. In a traditional classroom setting, the instructor is a dominant authority, the one who leads the education process. In an online classroom, however, the instructor functions more as a mentor who guides you. Online courses also come with technical aspects that traditional classes may not include, such as software and LMS options. Therefore, you not only encounter all required coursework, but also gain experience with new technology.
Mandatory Learning. Less instructor supervision leads to greater independence for you. Online learning is individual, which is the main difference from traditional classroom learning. You will experience individual instruction that does not occur in the traditional environment. This shift from a curriculum-centered to a learner-centered process results in eLearning being the superior method. You are required to learn and not merely to be present in a classroom.
Documentation. All the necessary information pertaining to the eLearning course is securely stored in an online database. This includes all documents, test results, training materials and emails. Therefore, if anything ever needs clarification, you are able to quickly access these documents to save time.
Instructor Support. In traditional classrooms, you may not get the individual attention needed to clarify concepts being studied; eLearning increases your potential success due to the individual instructor support. Your problem-solving and communication skills are also enhanced in an eLearning environment.
Access to Resources. Our online education provides you with quick access to extensive specialized IRS regulations and other resources that may not be available or easily accessible in a live classroom setting.
Access to Expertise. eLearning has grown in recent years and has experienced mainstream acceptance. With eLearning, you get to control your learning environment, which ultimately helps you develop a deeper understanding of the subject matter. New online learning techniques are always being developed, providing you with more opportunities to customize your education. eLearning also provides you with the opportunity to continue your education and pursue lifelong learning that might not be feasible through traditional classroom learning. As an adult learner, you are also enabled by eLearning to obtain expertise in any subject you desire to learn.
eLearning presents huge advantages over traditional education formats. This advantage is even more important for busy professionals and homemakers, who have limited time due to their other responsibilities. With the always-connected culture that most businesses operate in today, eLearning has become the preferred way to learn. Online courses and certificate programs are more convenient and less expensive than traditional classroom instruction. The best thing about online learning is that you can learn in a relaxed manner and study from anywhere, anytime-24/7. You only need passion for learning and a quick online search that will take you to the right course(s) for you. From that point on, you will be the master of your own education.