How to Become a Tax Preparer
Becoming a tax preparer is a very interesting and rewarding career!
If you're looking for flexibility, job security, and no ceiling on your earnings, income tax preparation could be just what you're looking for!
There is currently a shortage of qualified tax preparers and taxes aren't going away any time soon — making a career in tax an even more attractive option!
Did you know…
You don't need to be a Certified Public Accountant (CPA)
You also don't need a college degree, high level math skills, or any accounting knowledge to become a tax preparer!
While requirements differ from state to state, the general steps to become a tax preparer are listed below and are really quite simple. Surgent Income Tax School teaches you how to become a tax preparer.
Follow these 4 easy steps below & you'll be preparing tax returns in record time!
Step 1: Take a Top-Quality, Beginner Tax Preparation Course
The Comprehensive Tax Course starts with the basics, assuming no prior tax knowledge. This hands-on income tax course will teach you to prepare tax returns for most Form 1040 individual, non-business taxpayers and self-employed/Schedule C taxpayers. You will also learn how to research tax issues.
With a 5-star rating, this self-paced, online income tax preparation course typically takes about 10 weeks to finish, when students complete two lessons per week. Enrollment in the program is simple. You can start any time you like and complete the course in a shorter time frame, or you may take longer. This course is also approved for qualifying education by CTEC in California.
The Course includes:
Comprehensive Tax Course – 2021 Edition is Here & is Better than Ever, with Revised Content, Practical Pointers, & So Much More!
CA State Supplement Available
Surgent ITS Support by Email
Certificate of Completion after each of the four modules
FREE 6-Hour AFTR Course
You can take the Comprehensive Tax Course as a standalone course, as part of a bundle, or as the first course in one of our Chartered Tax Certificate Programs!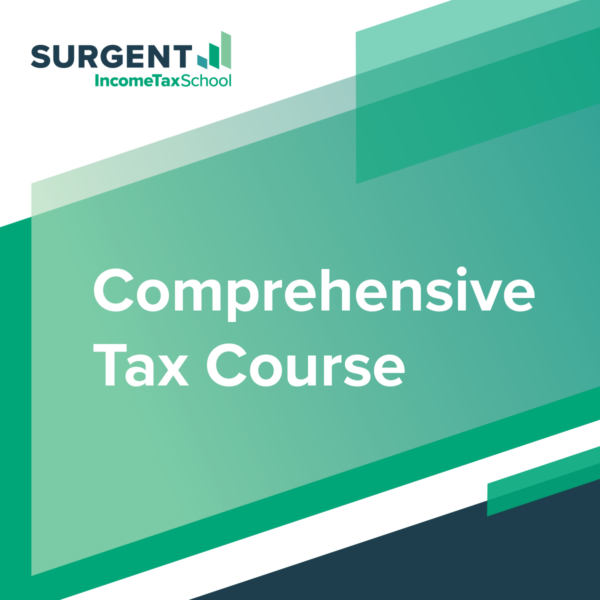 Step 2: Obtain a PTIN
A PTIN – also known as a Preparer Tax Identification Number – is issued by the Internal Revenue Service (IRS) to paid preparers. IRS regulations requires anyone who prepares or assists in preparing federal tax returns for compensation to have a valid PTIN before preparing returns. You must renew your PTIN annually.
Applying for your PTIN is easy, and only takes about 15 minutes online. There is a $35.95 nonrefundable fee, which can be paid by Credit/Debit/ATM card.
You'll need the following for your PTIN application:
Your Social Security Number
Your Personal Information (name, mailing address, date of birth)
Your Business Information (name, mailing address, telephone number)
Your previous year's individual tax return (name, address, filing status)
Explanations for any felony convictions
Explanations for any problems with your U.S. individual or business tax obligations
If applicable, any U.S.-based professional certifications information (CPA, attorney, Enrolled Agent, enrolled retirement plan agent, enrolled actuary, certified acceptance agent, or state license) including certification number, jurisdiction of issuance, and expiration date.
IMPT: You should obtain your PTIN as soon as possible to get things moving along. You don't need to wait until you complete Step 1.
Step 3: Check Your State for Tax Preparer Requirements
Tax return preparer regulations vary widely by state. So be sure to check with the state you live in to see if you have specific requirements that you must meet. States like California, Connecticut, Iowa, Maryland, New York, and Oregon, do have requirements.
State requirements for tax return preparers can range from nothing, to annual registration, a required beginner course, and/or a state exam that you must pass. You may also have continuing education requirements. Many states still don't have any requirements!
Step 4: Continue Your Education
When you register for the Comprehensive Tax Course with The Income Tax School, you also receive a FREE 6-hour AFTR (Annual Federal Tax Refresher) Course at no additional cost. Once you complete the Comprehensive Tax Course, you'll be able to easily complete the AFTR Course. This course is part of the IRS voluntary Annual Filing Season Program. It is not a requirement. So you don't have to complete this additional course, but it is a wise move!
Upon completion of both courses and registering for your PTIN, you can be approved as an IRS Qualified Preparer and receive an AFSP- Record of Completion from the IRS.
The AFSP program sets non-credentialed tax return preparers apart from their competition, and also gives preparers some representation rights for their clients.
This is an exciting time to be a tax preparer and it's important to stay current with the ever-changing tax laws. In addition to keeping up with the changes, you should also consider learning some new things each year. Learning advanced individual and small business tax information will enable you to grow your business and take on more complicated tax returns. This will help you gain confidence as a knowledgeable tax preparer, continue to grow in the field, and expand your tax practice.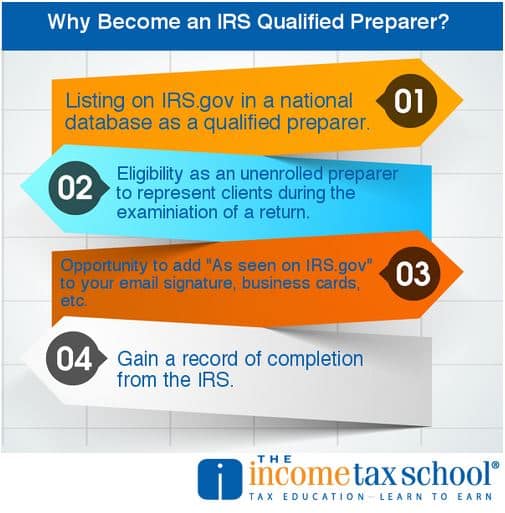 Tax Careers are Plentiful
Tax return preparers are in high demand right now. If you have a high school diploma or the equivalent, have great attention to detail, understand basic math equations, can handle several projects at one time, and are a good communicator, you have what it takes to excel in this field! Plus, as a bonus to learning about income tax, you'll also learn how best to save on your own taxes each year! Since most of us pay about one-third of our income in taxes, it's a great idea to know something about it!
While learning about income tax preparation, you should consider looking for an internship to start utilizing the skills and knowledge you're acquiring. You may be able to find a paid internship, but if not, an unpaid internship is still worthwhile, as the time spent with hands on learning is an invaluable way to solidify your tax knowledge. Plus, it could help you make important connections for once you complete the course and are ready to look for a job.
Once you complete the steps above, you can start applying for tax preparation jobs. If you're looking to work during tax season, it's best to start several months prior, to ensure you have adequate time for training in your specific role. However, many firms are still hiring right up until tax season, and even during tax season!
With tax knowledge, you can go into many different occupations, including:
Working as a Tax Preparer for a company preparing tax returns
Working as a Tax Manager for a company, overseeing other tax preparers, managing a tax office, and preparing tax returns
Becoming self-employed as a Tax Business Owner either as a sole practitioner or employing others in your own tax preparation business
Becoming an Enrolled Agent and preparing very complex tax returns and assisting with tax issues, even representing clients before the IRS
Becoming a Tax Attorney, who specializes in tax law and help with legal tax issues such as unfiled tax returns, wage garnishments, back taxes, and property liens
Working as a Tax Associate within a larger accounting firm preparing tax returns for clients
Working as a Tax Professional in a firm handling federal, state, and local income and payroll taxes
Working as a Tax Professional assisting with business mergers, acquisitions, private wealth, or other specialties
Interested in Starting Your Own Tax Business?
This is your go-to guide to getting started with your own tax preparation business today! Add our Guide to Start and Grow Your Successful Tax Business at checkout for as low as $99!
TOPICS INCLUDE:
Learning Tax Preparation & Obtaining Credentials
Developing a Business Plan
Risk Management
Getting Started as a Tax Business Owner
Establishing Your Tax Office
Tax Office Operating Systems
Buying a Tax Practice
Marketing Planning
Pricing Your Services
Mass Media Advertising
Digital Marketing
Your Website
Social Media Marketing
Neighborhood Marketing
Client Retention Strategies
Recruiting & Training Tax Preparers
Employee Pre-work Training
Motivating & Retaining Employees
Continuing Education
Diversification for Year-round Revenue
IRS Circular 230, Due Diligence & Fraud Protection
Helping Your Client Deal with the IRS
Peer Support & Tax Professional Associations
If You Do Decide to Work for Yourself…
You'll want to become an Authorized e-file Provider, and APPLY for an EFIN. An EFIN – also known as an Electronic Filing Identification Number – is required by the IRS if you plan to file tax returns electronically. If you plan to work as a tax preparer for someone else, they will more than likely already be an Authorized e-file Provider. Although the IRS does not charge a fee to participate in the IRS e-file program, there may be a charge based upon which Software Provider you choose to satisfy your business needs.
You'll need the following for your EFIN application:
An email address
Your Social Security number
Your filing status and address from your last-filed tax return
Your personal account number from a

credit card, or
home mortgage loan, or
home equity (second mortgage) loan, or
home equity line of credit (HELOC), or
car loan

(The IRS does not retain this data)

A readily available mobile device. For instant access, your name must be associated with a U.S-based mobile phone capable of receiving text messages. If the mobile number cannot be linked to your name, you may opt for a mailed activation code during registration.
IMPT: Most applicants will also need to provide fingerprints to the IRS, unless you are an attorney, CPA, or enrolled agent. You will also need to pass a suitability check, which may include a credit check, a tax compliance check, a criminal background check, and a check for prior non-compliance with the IRS e-file requirements.
Please note, it can take the IRS up to 45 days to approve an EFIN application.