5 Signs You Should Run A Tax School
By
Chuck
|
October 23, 2020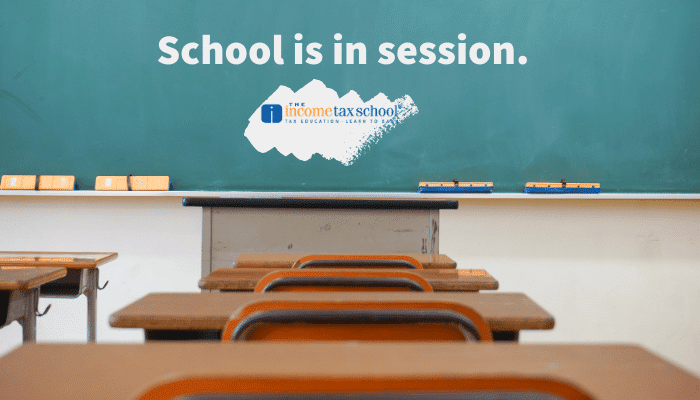 You know how The Income Tax School got started? Our sister company, Peoples Tax, needed to recruit and train tax preparers for the upcoming season. Turns out, we were pretty good at tax training, and so we grew a business out of it! Running your own tax school isn't a new concept, it's something all the national tax preparation companies do to recruit the massive amounts of tax preparers needed each season. It's a pretty effective way of getting more income, getting set for the season, and getting to see potential new employees in action. Whether you want to start a business or just looking to add to recruit new tax preparers, here are 5 reasons you should run a tax school.
You know you're going to have to hire for next tax season
After the catastrophe that was last tax season, you'll want to equip your team with everything they need for next tax season, and that may mean bringing on some seasonal team members. However, everyone who applies may not be at the professional level you need just quite yet. By running your own, in-house tax school, you can ensure that incoming staff is competent and ready to help your clients to the best of their ability. Well trained, prepared tax pros often keep clients coming back year after year, which means more profit in all of your pockets!
You've had a hard time finding applicants in the past.
Maybe during this season or in seasons past you've had trouble finding applicants. There is definitely a shortage of tax preparers these days so why not start with great hires and teach them the ropes? Running a tax school will not only provide confidence and training, but you will save money by not having to outsource.
You want to make sure you have tax pros who are trained properly and are a good culture fit
If you've been in business for a while, you've likely experienced the dread of a bad hire. While it's definitely good to have a strong, knowledgeable and experienced staff, it's also a risk bringing someone. Maybe they have bad habits, maybe they don't know as much as you thought they did. Operating a tax school allows you to give them the exact training and guidance you want so that they do things the right way: your way.
Company culture is a huge aspect in good work-life balance. It's essential that during the hiring and training process you're looking for individuals who will adapt well to the environment you've created in your firm. By running a tax school, you get to observe how each student learns and interacts with you and each other. By the end, you'll get to choose which students are the best fit for your firm.
You don't have the time to develop your own training materials
We recently interviewed Monica Brewer, a tax business owner who runs a tax school. She is a great testament to how much goes into developing tax training materials – and how valuable it is to rely on the pros.
"When I was training just off of my knowledge and materials, I would get information from the IRS website, any seminars that I had… I was constantly doing research to find the standard deduction. I would put it in my own words to train them and help them understand what they had to do as far as tax laws and what was required. But once I had that book, I was blown away. There's so much stuff in here!" – Monica Brewer
She's right. Why spend all of that time when you can count on a business who has been doing this for 30 years now? The Income Tax School offers a true, turnkey solution to training.
You want to develop another revenue stream
Running a tax school is not sure a recruitment tool, it can be an additional revenue stream. You don't have to hire everyone you train and you can offer your community an opportunity to learn from a pro and get started on a new career path.
Opening your own tax school doesn't have to be hard, especially when you choose us to help. We have several options that fit your needs as an owner and for students. You can find them here.