Product Description
Please note: The Guide to Start and Grow Your Successful Tax Business is a guidebook – not a course or webinar. This product is non-refundable.
Topics Include:
Learning Tax Preparation & Obtaining Credentials
Developing a Business Plan
Risk Management
Getting Started as a Tax Business Owner
Establishing Your Tax Office
Tax Office Operating Systems
Buying a Tax Practice
Marketing Planning
Pricing Your Services
Mass Media Advertising
Digital Marketing
Your Website
Social Media Marketing
Neighborhood Marketing
Client Retention Strategies
Recruiting & Training Tax Preparers
Employee Pre-work Training
Motivating & Retaining Employees
Continuing Education
Diversification for Year-round Revenue
IRS Circular 230, Due Diligence & Fraud Protection
Helping Your Client Deal with the IRS
Peer Support & Tax
Professional Associations
Praise for the Book…
"We know from talking to our customers how important it is for a tax professional to feel like a trusted advisor to their clients. This book has all the elements to set you up for success and to be that advisor – from developing a business plan to diversifying for year-round revenue. We've worked with ITS on several projects — their rich domain access is unequalled – and Chuck's breadth and depth of knowledge really shine through. His passion to help tax professionals grow and prosper equals our own and is inspiring."

~ CeCe Morken, General Manager, Intuit ProConnect Group
"The Income Tax School invests significantly to ensure the very best curriculum development and content delivery. Feedback from participants has been excellent and truly supports The Income Tax School's position that it sets the standard for tax preparer training and enabling ITS graduates to start successful independent tax businesses."

~ Roger K. Burgess, former IRS Deputy Asst. Commissioner and District Director
"Reading the start-up business guide book has been a transforming experience to my business life. In 2015, after spending 10 years as a District General Manager with a national tax firm, I started up my own tax business, Global Tax Centers. Using The Income Tax School Tax Practice Manual as my guide, I grew from a one-man operation to 22 home-based Affiliate/Owners across the US. The ITS tax business operating principles are as sound as Mt. Everest and explained with great clarity for easy retention. Chuck McCabe's insight into the tax industry is priceless, and provocative, and his manuals are required reading for every one of our Affiliate/Owners. Every person looking to start their own tax business could benefit from reading these manuals."

~ Nathaniel R. Causley, Jr., J.D., Founder, President & CEO, Global Tax Centers
About the Author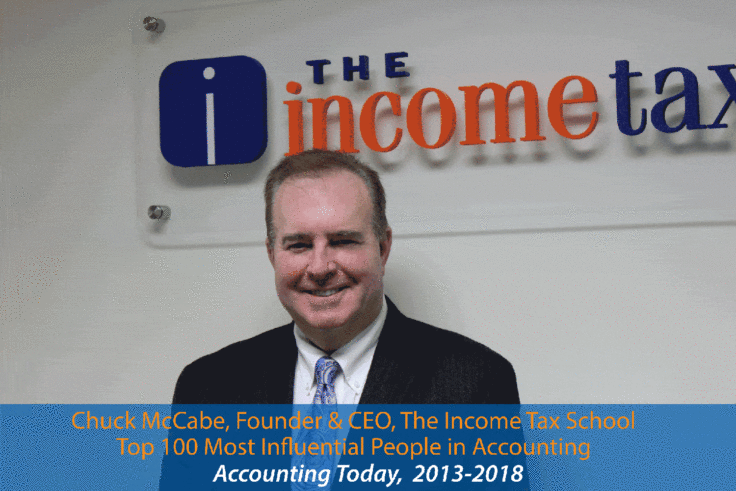 Chuck McCabe has managed hundreds of tax offices and was recognized for multiple years among Accounting Today's Top 100 Most Influential People in Accounting because: "As a veteran in the tax preparation industry, McCabe had the vision to offer support to other tax business owners who opt to remain independent by providing them with tax education and business skills so they can be successful on their own." Empowering these entrepreneurs with proven best practices has enabled them to operate on a level playing field with national tax firms.
As our mission statement declares: We empower people with a professional career to fulfill their dreams and serve others as industry leaders.
We hope that this book will help us fulfill our mission of enabling you to succeed as a tax entrepreneur!"
Best wishes for your success! ~ Chuck McCabe