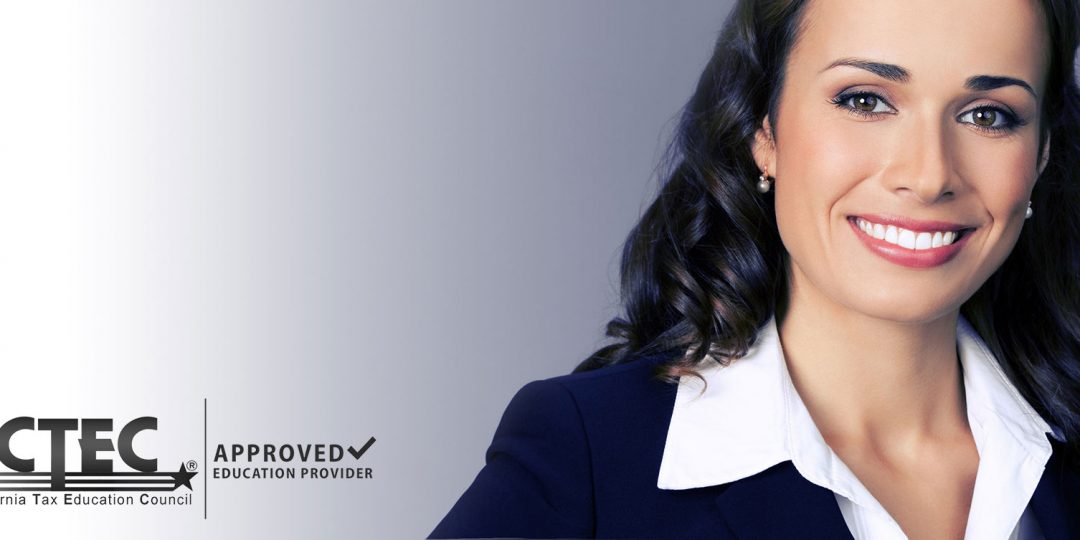 Become a CTEC Registered Tax Preparer (CRTP)
Steps to become a CTEC Registered Tax Preparers (CRTP) in California:
Complete 60-hours of qualifying tax education (45 federal and 15 state) from a CTEC Approved Provider

Our beginner income tax course with a California state supplement – the Comprehensive Tax Course – California Edition — is approved by CTEC for qualifying education, which is a required course for tax preparers to become registered to practice in California.

Obtain a Preparer Tax Identification Number (PTIN) from the IRS
Obtain a $5,000 tax preparer bond
Register with CTEC within 18 months from the completion date on the certificate of completion
California law requires anyone who prepares tax returns for a fee within the State of California — and is not an exempt preparer — to register as a tax preparer with CTEC.
Exempt preparers include:
California Certified Public Accountants (CPAs)
Enrolled Agents (EAs)
Attorneys who are members of the State Bar of California
New 2020 requirements
Background checks and fingerprint images – Begins July 1, 2020.
California Business and Professions Code Section 22251.3* was amended to require new applicants interested in becoming CRTPs to pass a criminal background check and submit fingerprint images to CTEC to determine an individual's eligibility to register as a CRTP. The new requirements are NOT applicable to current CRTPs, only new applicants who register beginning July 1, 2020.
Also beginning July 1, 2020, if a CRTP allows their CTEC registration to expire and they would like to reregister with CTEC, they not only will be required to retake the 60-hour qualifying education course, but they will also be required to go through another background check and resubmit fingerprint images to CTEC.
*All references are in the California Business and Professions Code, Sections 22250-22259
It's easy to become a CTEC approved tax professional with our CA Comprehensive Income Tax Course. Get everything you need to start your career – fast!
All you have to do is study the tax material we give you, and understand when certain laws and rules apply. The ITS California Comprehensive Tax Course teaches you everything you need to know to succeed as a tax professional in California!
We help you:
Learn tax preparation – with our Comprehensive Tax Course. In this beginner tax preparer course, you will learn to prepare tax returns and research tax issues for most website Form 1040 individual, non-business taxpayers and small business taxpayers (self-employed/Schedule C).
Become CTEC approved as a CRTP in California – Upon successful completion of the course, we will

Send you a Certificate of Completion
Submit your course completion information directly to CTEC
SAVE $100 NOW with code CTEC-15
SAVE 20% on Payment Plan with code CTEC-15-P