Learn tax preparation and meet your initial education requirement to become an Oregon Licensed Tax Preparer with our tax school. The Income Tax School (ITS) is a Basic Course Sponsor for tax preparers in Oregon. Successful completion of our 80-hour Oregon Comprehensive Tax Course meets your requirement for basic tax training, which is required by the Oregon State Board of Tax Practitioners.
An Oregon Tax Preparer license enables you to lawfully prepare personal income tax returns in Oregon for a fee or valuable consideration. A tax preparer must work under the supervision of a licensed tax consultant, a certified public accountant, a public accountant, or an attorney-at-law.
Here's the list of requirements to become an Oregon Licensed Tax Preparer
Be at least 18 years old
Possess a high school or general equivalency diploma (GED)
Complete an 80-hour basic tax course – The Income Tax School is an Oregon Basic Course Sponsor and has an Oregon tax preparation course that meets this requirement
Pass the tax preparer examination administered by the Oregon Board with a score of 75% or higher
Receive and submit your "Session Attendance Certification Form" (Certificate of Completion) to the Oregon Board office with your license application
**SAVE $100 NOW with code OBTP-100
Enroll Now – Oregon 80-Hour Basic Tax Course
It's easy to become an Oregon tax professional with our OR Comprehensive Tax Course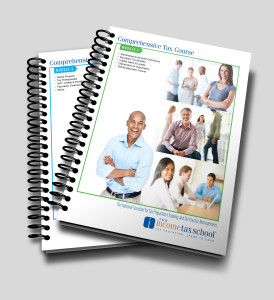 Get everything you need to start your career – fast! All you have to do is study the tax material we give you, and understand when certain laws and rules apply. The ITS Oregon Comprehensive Tax Course teaches you everything you need to know to succeed as a tax preparer in Oregon!
The ITS beginner tax course with Oregon state supplement – OR Comprehensive Tax Course — is approved by the Oregon State Board for Tax Practitioners as a Basic Course Sponsor, which is a required course for tax preparers to become registered to practice in Oregon.

We help you:
Learn tax preparation – with our Comprehensive Tax Course. In this beginner tax preparer course available from our tax school, you will learn to prepare tax returns and research tax issues for most Form 1040 individual, non-business taxpayers and small business taxpayers (self-employed/Schedule C). No prior tax knowledge or experience is needed.
Prepare for the Oregon Tax Preparer Examination to become a Tax Preparer in Oregon – Upon successful completion of the course, we'll send your "Session Attendance Certification Form" (Certificate of Completion) signed by your course instructor.
The Oregon Comprehensive Tax Course teaches you the fundamentals of federal tax law. And we don't just teach you the law with our tax preparation courses, you also learn how to apply it in your review questions and learning activities by preparing practice tax returns.
The tax returns that you are preparing are based on real-life scenarios. That enables you to internalize the knowledge and gives you a solid foundation you can continue to build on. We follow up with quizzes and an exam to make sure that the knowledge is really sinking in. You can download the quizzes and exam beforehand and prepare them off-line at your own pace. Input your answers online when you are confident with your answers.

And, if you're thinking of going into business for yourself –you'll want to add our Guide to Start & Grow Your Successful Tax Business to your Comprehensive Tax Course. This guide will help you start your own tax business in weeks without franchise fees or royalties.
With this Business Start-up Guide, you'll be in business in no time!
Topics include:
Learning Tax Preparation & Obtaining Credentials
Developing a Business Plan
Risk Management
Getting Started as a Tax Business Owner
Establishing Your Tax Office
Tax Office Operating Systems
Buying a Tax Practice
Marketing Planning
Pricing Your Services
Mass Media Advertising
Digital Marketing
Your Website
Social Media Marketing
Neighborhood Marketing
Client Retention Strategies
Recruiting & Training Tax Preparers
Employee Pre-work Training
Motivating & Retaining Employees
Continuing Education
Diversification for Year-round Revenue
IRS Circular 230, Due Diligence & Fraud Protection
Helping Your Client Deal with the IRS
Peer Support & Tax
Professional Associations
Annual Renewal Requirements:
Once you become an Oregon Licensed Tax Preparer, you will have annual renewal requirements.
For More Information about OBTP: