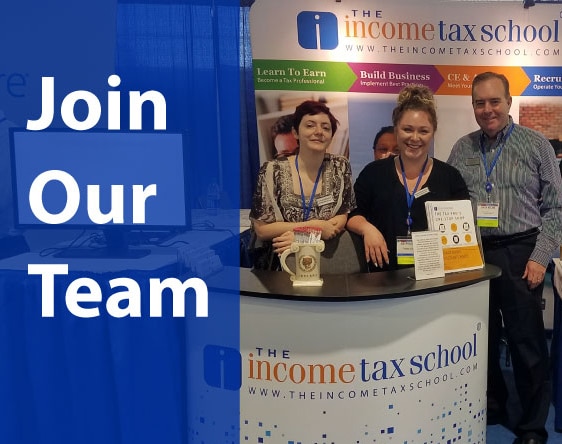 Click here to email application, resume, and a sample writing
Interested in a Career at The Income Tax School?

Join our team of knowledgeable, veteran EAs and Tax Preparers in our mission to empower people with a professional career to fulfill their dreams and serve others as industry leaders.

Our Company is dedicated to two standards:
To provide our customers with high quality products and services at reasonable prices with quality service; in other words, true value.
To provide you with wages and benefits comparable to others doing similar work within the industry and within the region, and to provide an exceptional working environment.
Over our 30 years in business, we've cultivated a fun, family oriented atmosphere that focuses on being the most knowledgeable tax professionals in our field and the most customer service oriented. We work hard together, and we celebrate together as a family.
Core Values
Practice Servant Leadership
By always putting integrity and ethics first, showing empathy and genuine concern for others, communicating openly, demonstrating mutual trust and respect, and leading a purposeful life.

Do the Right Things Right!
Exceed our customers expectations, use cutting edge processes, create and maintain quality products and services, be thorough and accurate, and always act with professionalism.

Make it Happen!
Be proactive, work as a team, continuously innovate, take ownership, and be committed to success.

View Our Open Positions Below
Front Office Administrative Assistant
Growth opportunity for a skilled customer service professional to be part of a positive team working in a professional office environment. Duties include greeting Corporate office visitors; answering phones (6 lines) and live chats to assist prospective customers in purchasing Tax School products to meet their needs. Will also assist with editing and uploading curriculum to our Learning Management System (LMS) and perform other duties as requested. Candidate should be willing to take our Basic e-learning income tax preparation course (8 lessons) to learn what students study, and to enhance career advancement potential. Must be proficient in all Microsoft Office applications and experienced in customer service.
Please submit your resume with a cover letter explaining why you are interested in this position to: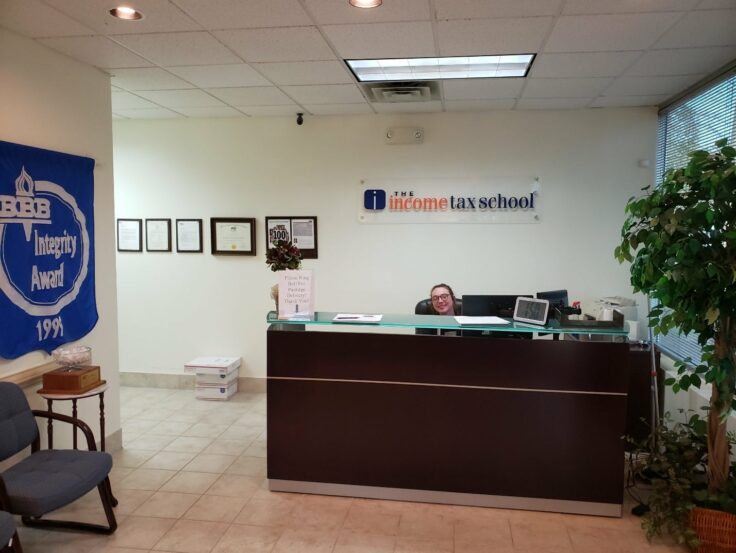 Assistant Tax School Director
Career Opportunity for an experienced tax pro with excellent writing, teaching, management and computer skills. Relocation to Richmond, Virginia required for this position.
Function:
Assist Tax School Director in all aspects of managing and guiding the Curriculum, Instructors, Learning Management System, and School Admin Teams.
Benefits
Enjoy a positive work environment
Become a member of our corporate inner-circle
Gain eLearning industry experience
Use state-of-the art technologies
Enjoy transparency instead of bureaucracy
Work in a progressive, growing small business
Enjoy freedom to be innovative and creative
Enjoy vacation, sick days and holidays
Live in the vibrant Richmond community
Gain access to unlimited, free CE
Career track to advance to Tax School Director
Responsibilities:
Become familiar with ITS curriculum by auditing all tax courses in the CTP certificate program
Review edited curriculum for The Income Tax School (ITS) courses and seminars
Write specific sections of ITS course curriculum and update as necessary
Help to ensure maintenance of all ITS licenses and credentials in a timely manner
Help to ensure development and production of top-quality products through/with curriculum team
Help to develop new tax school products through and with Curriculum Team
Identify new markets and needed enhancements through customer feedback and surveys
Maintain awareness of competition (strategies, offerings, pricing and market share)
Help to ensure timely completion of all curriculum updates and new curriculum development
Assist in performing duties of subordinates as necessary to ensure deadlines are met
Help to determine audio and visual enhancements needed and help to direct implementation
Help to ensure professional service support and communication to all ITS licensees and students
Help to ensure timely corrections of curriculum errors to texts and posting to online resource center
Help to ensure timely updating of curriculum to Learning Management System (LMS)
Help to ensure correct preparation of course curriculum for print and online delivery
Learn about the publishing equipment and publishing software applications
Help to ensure the efficient operation of the ITS print shop
Communicate regularly with ITS employees individually and through weekly meetings
Attend meetings of licensors (e.g., SCHEV, CTEC, NASBA) and trade shows as requested
Participate in strategic planning and budget meetings pertaining to ITS
Establish relationships with the "go to" people at the IRS, CTEC, SCHEV, etc
Perform all other duties as may be assigned
Expectations:
Help corporate executives attain the Company's growth and profit goals
Work efficiently; be productive, self-directed, reliable and assertive
Take ownership of the job; determine what needs to happen and get it done
Meet all deadlines in a timely manner
Represent ITS professionally to the public and to ITS licensees and students
Earn acceptance and trust of all ITS co-workers
Create an environment in which the Curriculum Team will be motivated to operate effectively
Function as a loyal member of ITS corporate team
Exercise discretion in confidential matters
Provide frank feedback to corporate executives
Continue education as necessary to enhance job skills and growth with ITS
Practice ITS Guiding Principles and encourage all ITS' associates to do so
Skills and Qualities Desired:
Initiative, resourcefulness, self-reliance and perseverance
Goal oriented and focused on results
Strong people skills; A team player
Genuine concern for people and desire to help others
Maturity, sensitivity and integrity
Excellent written and oral communication skills
Excellent technical writing, research and editing skills
Strong organizational skills, plus ability to see the big picture
Ability to be creative and innovative
Computer proficiency in MS Office and Adobe applications and ability to learn more
Education and Experience Desired:
3 years of experience in preparing 250+ individual and small business tax returns
Experience in preparing corporation, partnership and complex individual returns
IRS Enrolled Agent or ability to earn the EA credential within 1 year
Tax course teaching experience or ability
Technical research, writing and editing experience
Business management and employee supervision experience or ability
Bachelor's degree in Business or equivalent experience