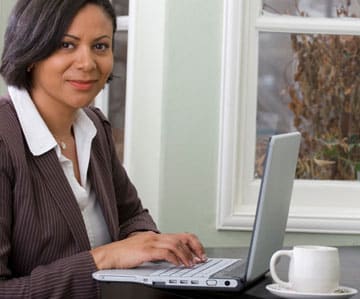 The first thing you will need is a solid foundation of tax knowledge. The Income Tax School offers tax courses online, 24/7 with instructor support. So you can get started right away!
After just one 60-hour Comprehensive Tax Course, you will be able to prepare tax returns for most individual U.S. taxpayers.
This tax course can be completed in just weeks! If you want to be able to prepare tax returns for small businesses, then you will also want to take the 30-hour Small Business I Tax Course.
Next, you'll want to learn the nuts and bolts about starting and running a tax business. Instead of reinventing the wheel, consider purchasing The Income Tax School's Strategic Planning Retreat Webinars.  These webinars will teach you many of the tax industry best practices., and are based on live Strategic Planning Retreats held in Richmond, VA. Many tax business owners attended these retreats – some just starting out, while others have been in the tax business for years.
Now Available! Our new book, Guide to Start and Grow Your Successful Tax Business.
This 289-page book is your go-to guide to getting started with a tax business today!
Also available are written tax business manuals to compete with the national tax firms.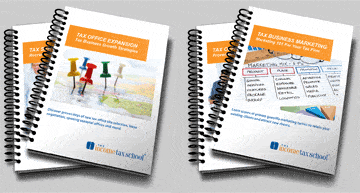 These manuals include:
Tax software options
Choosing professional tax preparation software will depend on what type of tax returns you will be preparing and what you can afford. You can choose anything from a simple pay-per-return package, to a basic tax software package that will enable you to prepare simple returns, to a very advanced tax program that will allow you to prepare all types of tax returns with many bells and whistles. Here are 2 low cost options for professional tax preparation software from Intuit:
ProSeries® Tax Software – for Desktop Users
Deliver more for your clients in less time with the leading provider of professional tax software. Only ProSeries is faster and easier to use, so you can spend time on what's important — your clients.Intuit has made it even easier for you to save time and money. Skip the hassle of renewing your software every season and take full advantage of Intuit's newest, most flexible renewal options. Simply reserve your renewal discount now and pay later.
SPECIAL 20% Discount on ProSeries Basic and Pay-per-return products, as well as a custom discount on Intuit's Unlimited solutions. To learn more or to order, please call (844) 830-8560 and speak with one of Intuit's tax specialists today!
Intuit Tax Online Software – for Online Users
Intuit Tax Online works harder to make your workdays shorter. Work more efficiently, and get back to living more fully with #1 cloud-based accounting software. Everything you need to find your productivity sweet spot. Bank level encryption, robust content, mobile apps and no contracts — what's not to love!
Feature Rich — Robust time savings features to speed you through returns
Complete Calculations — make sure work is done right the first time with our advanced calculations and diagnostics
Fabulous Forms Set — over 5,600 forms mean you're always able to complete the job and meet tight deadlines (1040, 1041, 1065, 1120, 1120S & 990 modules supported)
Flexible & Affordable – Buy only what you need when you need it, one return at a time or buy bundles and save more. Completely free to try.
SPECIAL 20% Discount on Intuit Tax Online product.To learn more or to order, please visit http://accountants.intuit.com/tax/online/ to sign up for a free trial. Enter code 1102141 in the ITO product purchase experience to redeem the offer.

How to get your first clients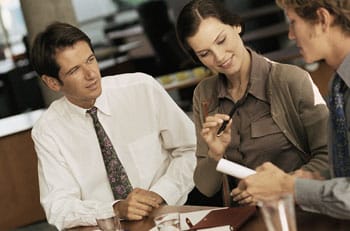 You might be wondering how you will get your first clients. Most people start off by offering their services to friends, family members, and neighbors. This is a great place to start because these people already know you and trust that you will do a good job. From there, you can ask for referrals. Offering an incentive and/or discount to clients who give referrals is a great way to increase your business. Having a special offer for new clients also helps.
Another great way to increase business is to start networking. Get out and about and become known as the "tax expert". You can join a group like Business Network International (BNI). It will be important for you to continue your tax education so that you stay on top of the tax law changes and can also handle more complicated tax returns/issues.
Offering to write a tax column and answer tax questions are additional ways to get your name out there. You can learn more about how to start and grow your tax business with Tax Practice Management Manuals available through The Income Tax School.
Launch your own tax business in weeks – No franchise fees or royalties
It's easy to go into business for yourself.
Step 1: Register for the Comprehensive Tax Course

Learn to prepare tax returns & research tax issues for most Form 1040 individual, non-business taxpayers and small business taxpayers (self-employed/Schedule C).
CTEC and OBTP Approved. Includes Certificate of Completion and FREE AFTR Course.

Step 2: Add the Guide to Start & Grow Your Successful Tax Business to help launch your tax business quickly

Topics Include:

Learning Tax Preparation & Obtaining Credentials
Developing a Business Plan
Risk Management
Getting Started as a Tax Business Owner
Establishing Your Tax Office
Tax Office Operating Systems
Buying a Tax Practice
Marketing Planning
Pricing Your Services
Mass Media Advertising
Digital Marketing
Your Website
Social Media Marketing
Neighborhood Marketing
Client Retention Strategies
Recruiting & Training Tax Preparers
Employee Pre-work Training
Motivating & Retaining Employees
Continuing Education
Diversification for Year-round Revenue
IRS Circular 230, Due Diligence & Fraud Protection
Helping Your Client Deal with the IRS
Peer Support & Tax
Professional Associations

Step 3: Follow the Tax Business Start-Up Checklist
Get Started Now!
Get Started Now with the Comprehensive Tax Course & Business Start-up Guide