Build Your Own Successful Tax Practice
Compete successfully with the big guys with no fees or strings attached!
Yes, small tax preparation firms really can prosper. You have the advantage of flexibility and agility. Unlike national firms, you can turn on a dime when you have to. But you have to know what to do and when to do it. What works and what doesn't.
Best practices are the key! Learn the developed and tested systems that produce consistent and reliable growth that you can use to build your business.
Tax business insider, Chuck McCabe, reveals the best practices he used to start and operate hundreds of tax offices when he was an executive with H&R Block. He shows you how to succeed using the same proven methods. You learn how to
Avoid costly mistakes and market effectively on a limited budget, including tested internet strategies.
Establish and maintain forward momentum by operating your business systematically.
Recruit, train and keep the right people–your most valuable asset.
Select the best location for a new office; negotiate a lease, and more.
You also learn emerging best tax business practices that Chuck is developing for Peoples Tax, the tax preparation business he started in 1987. He's down in the trenches learning and sharing what's working for his company as the economy changes and the workforce shifts. (Chuck is also founder and CEO of The Income Tax School.)
Chuck knows the tax business from the inside out.
He gives you reliable, clear guidance on all aspects of establishing, running and expanding your tax preparation business.
Now's the time to start making the changes that can create a more profitable tax season this year, and every year. Get started today!
Essentials to start, build, or improve your own tax business
As an income tax professional or tax business owner, you can use our powerful tools to:
Attract new clients
Build a successful tax practice
Compete successfully with local and national tax firms
Our Tax Practice Management Manuals and Webinars will enable you to compete on a level playing field without reinventing the wheel or paying costly franchise fees or royalties!
---
I purchased the Tax Office Operations Manual and it was an incredible resource. I would highly recommend it, and Chuck did not pay me to say that. I used it last year and it really helped to fill in some gaps that my office manager and I had. I just pulled it out and plan on reviewing it for the up and coming tax season to make sure we are consistent with our delivery. We went from around 197 tax returns to just south of 300 and are looking to hit 400 this year."

Fred Waller, Waller Tax and Financial Services
---
Tax Practice Management Manuals
Expert insider guidance shows you what to do, and what to watch out for as you build your tax business.
Chuck McCabe, one of the industry's top insiders, shares the strategies and tactics he used to start and operate 100's of tax offices. Chuck created these manuals to show you how to compete effectively with local and national tax firms. It's the sure way to create real business value and avoid time and money-wasting mistakes.
What you will take away
Proven methods to generate revenue & profits
Best practices to manage your tax business effectively
Understanding of the secrets of the national tax firms
A viable plan to generate year-round revenue & profit
A vision of the successful tax business model of the future
Systematic methods to enable your people to build your business for you
Tax Business Marketing
Reach Your Target Clients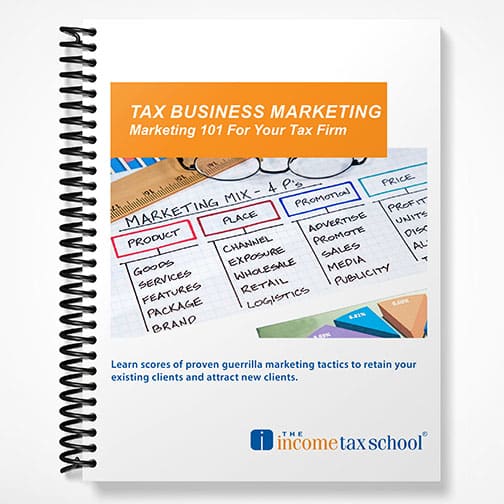 $149
Learn many of the key things to market your tax firm the way national tax firms do without having to spend as much. Learn to identify your target clients and reach them efficiently and effectively.
Contents:
Marketing Planning
Client Retention
Mass Media Advertising
Targeted Advertising
Public Relations
Group Tax Programs
Tax Office Signage
Sample Ads, Brochures & Flyers
Marketing References
…and much more!
-
---
Tax Office Operations
Policies and Procedures
$199
This comprehensive manual outlines effective company policies and procedures and communicates them to your employees and clients. Help your staff understand your company's philosophy to increase consistency in your operations. Downloadable files and templates included to customize to your needs.
Contents:
Guiding Principles
Tax Office Policies
Administrative Procedures
Employment Agreements
Fee Schedules
Checking & Processing
IRS E-filing
IRS Due Diligence
…and much more!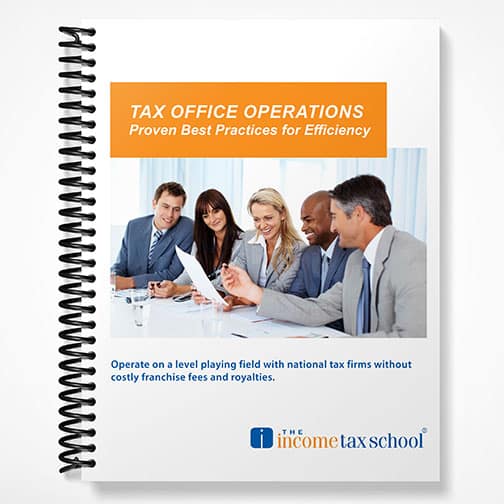 -
Tax Business Expansion
Grow Your Business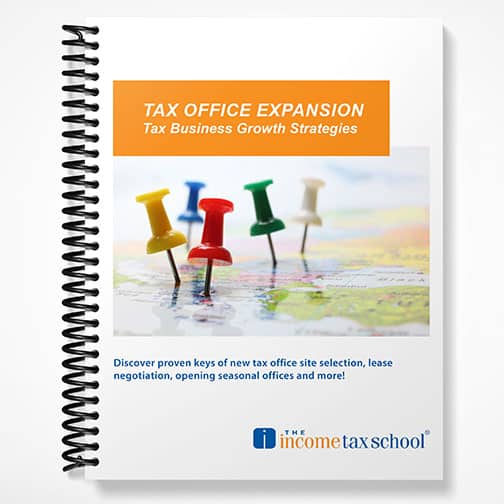 $99
Ready to lease a tax office or expand your tax business? Don't make any decisions without this guide! This manual, developed by a 40+ year veteran executive of a national tax firm, will give you a methodical, clear plan.
Contents:
Game Plan to Compete with National Firms
Site Selection Considerations
Different Market Segments
Sample Leases & Leased Department Agreements
Lease Negotiation Strategies
Alternative Distribution Channels
Joint Ventures & Franchises
Acquisitions
…and much more!
-
Tax Business Personnel
Training & Human Resources
$149
In business with two or more employees? This manual is for you. Employees are the key to your success. With this guide, You'll be able to realize the benefits of hiring right, proper training, and keeping the best.
Contents:
Screening & Hiring, Recruiting & Training
Training Outlines
Creating Job Descriptions
Motivating & Retaining
Personnel Policies & Procedures
Employment Law Issues
Employment Agreements
Compensation & Benefits
…and much more!
-
Learn the key things you need to start a successful tax business or grow the one you have!
About the Author
Charles E. McCabe, M.B.A., founded The Income Tax School (ITS) in 1989, initially as a division of Peoples Income Tax which he also founded, to meet the need for qualified tax preparers to support the multi-office tax firm's rapid growth. Previously McCabe was regional director and major franchise COO for H & R Block in several states. ITS now provides income tax training curriculum for tax & accounting firms and colleges, and also trains thousands of students nationwide through online income tax courses. McCabe is also a speaker, author and teacher of entrepreneurship and tax practice management.
---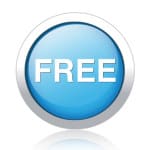 Free Tax Business Webinar
View the Recruit and Train Webinar for FREE ($59 value)! Use promo code freebie10 at checkout.
Learn proven best practices developed by national tax firms to ensure an adequate supply of trained, qualified tax professionals to staff your offices.
These were great webinars and I got a lot out of them. I appreciate the great client service that you and Chuck have shown me. Chuck has been very open and free with providing me information and encouragement as I get my practice off of the ground. It is a really exciting (and terrifying) time as I work through all of the issues and opportunities to get launched, and the webinars and the practice manuals I purchased have been a great help. Thanks again."

Brian Murphy, New Lebanon, OH
---
ITS BLOG: Tax Industry Talk
Tax Industry Talk was developed to facilitate a meaningful dialogue among all tax preparers – from beginners to even the most seasoned tax professionals. Through this communication, we strive to enable tax professionals nationwide to adopt, develop and refine best practices with their clients and businesses.
Check it out now: Tax Industry Talk, and don't forget to subscribe to the feed so it comes right to your email inbox!
Tax Business Owners of America
Are you a Tax Business Owner?
Join Tax Business Owners of America, where you can share ideas, best practices and more!
To join TBOA you must first be a member of LinkedIn (www.linkedin.com).
As a LinkedIn member, you can visit the TBOA LinkedIn Group and make a request to join.