Why you should start a tax businessand how to get started
In today's economy, self-employed people often have the greatest job security. The reward of entrepreneurship is independence, financial freedom and more. Imagine creating your own secure source of income–with unlimited potential! You can establish a great new home-based business that can be part-time or full-time… and even grow into a brick and mortar business. The choice is yours, and always will be when you're a business owner.
Benefits of starting a tax business
Earn $100/hour or more as an experienced pro
Reduce your own tax liability
Your skills will make you more marketable
Work 3 months of the year and make a great income
Have your summers and holidays free
Be more secure – you control your own destiny
Start at home with minimal expenses
It's easier and less expensive than you think!
Minimal start-up costs
Get your tax business started quickly
No franchise fees or royalties
No accounting background or degree required
We teach you everything you need to know and do it faster than you think!
No need to reinvent the wheel – we offer tax manuals on policies and procedures, tax preparation marketing, personnel and expansion
Huge growth potential
Millions of Americans pay a tax professional to prepare and file their tax return every year and Congress continues to make more changes to the tax code. These changes make taxpayers even more confused and frustrated and they are seeking out the help of Tax Professionals more than ever.
As the number of taxpayers continues to grow, so does the need for qualified Tax Return Preparers. And now, with the recent changes to the U.S. economy, it's more important than ever for taxpayers to claim all of the credits and deductions due them and pay no more than the exact amount of taxes they owe. Starting your own tax business will enable you to meet this growing demand and also give you the flexibility and security you deserve.
Better than a franchise
Here are just some of the reasons why starting your own tax preparation business makes better sense than buying into a tax business franchise. Having your own tax business means:
AVOID costly start up fees
AVOID royalty payments
AVOID issues with financing assistance
AVOID geographic restrictions
AVOID issues with franchisor legal recourse should something go wrong
CREATIVE CONTROL – you get to do things your way
NO contract requirements–do you know what you'll be doing years from now?
NO problems with insufficient support from the franchisor
REASONABLE COSTS for supplies—no franchisor mark-ups
FREEDOM for non-compete provisions should you want out of the franchise
AVOID advertising fees that may not help your franchise
AVOID losing your business due to unreasonable termination of your franchise
Like working with people and computers? Tax preparation is a great business for you!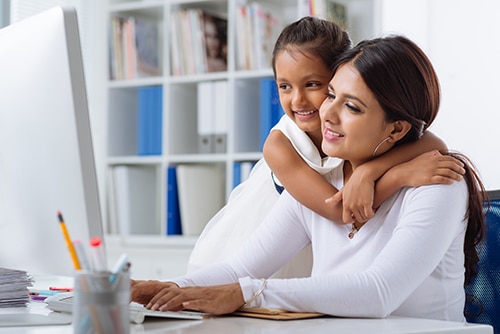 Tax preparation is a great home-based business for many types of people. If you are someone who enjoys working with people and computers, this could be for you!
Stay-at-home parents and early retirees find this to be a wonderful complement to their lives. It enables you to still have your holidays and summers free to be with the kids or grandkids, it allows you to travel, etc.
Retired military people looking for a second career can establish a business that allows them to work for as many years as they want.
Military spouses looking for a portable career that you can take with you and grow regardless of where you are.
Financial services professionals can add tax preparation expertise to their available services, offering more value to their clients.
No need to be a CPA or a numbers person to be a successful tax professional
Myth #1: "You need to be a CPA or have an accounting degree to be a Tax Professional."
Many people shy away from taxes because they think it will be too difficult and you must be a Certified Public Accountant (CPA) or have an accounting degree, or the equivalent. The truth is you really don't have to be an accountant to be a tax professional. While having an aptitude for dealing with figures is essential, high level knowledge of math and finance are not necessary and tax preparation is not accounting, it's law. You don't even need to have a college degree to prepare taxes. In fact, the highest designation in the tax industry is actually an IRS Enrolled Agent.
Then what DO you need?
You will need to take at least one tax preparation course to give you a solid foundation in individual tax. In addition, if you choose to complete the voluntary Internal Revenue Service (IRS) Annual Filing Season Program (AFSP), you would also need to complete a 6-hour Annual Federal Tax Refresher Course (AFTR) with a 100 question competency test to confirm your tax knowledge. To receive a Record of Completion from the IRS for this program, you must also complete additional hours of continuing education. The 6-hour AFTR Course and CE is a voluntary annual program of the IRS. Continuing education is a great thing and super important, as it will help you increase your tax knowledge and remain current with the tax code. If you wish to prepare business tax returns, you will also need to take a tax course on small business income tax. Learn more about the AFSP program.
Our beginner tax preparation course assumes no prior tax knowledge and the tax preparer software available today makes tax preparation a lot easier. That being said, tax preparer software is NOT a substitute for tax knowledge. It's extremely important that you are able to complete tax returns by hand as the computer programs don't always think of everything. You should never rely on any tax software program to train you or to prepare a tax return for you accurately. It should simply be used as a tool to improve your service and make you more efficient.
Myth #2: "Tax Preparation is for 'numbers' people."
It's amazing how many people think that tax preparation is all about the numbers, but that's not all. Tax preparation is actually a people business. So, if you enjoy working with people, you could do very well in the tax business. It's about building relationships and trust.
Yes, it is extremely important that you have the knowledge to prepare taxes accurately. But the experience that your clients have during the tax preparation process and after is just as important. When you are dealing with a client's financial information it becomes very personal. Your client trusts you to take good care of him/her and hopes you have their best interests in mind. Your client is looking for guidance and has come to you because they see you as an expert in the tax industry. You could prepare a client's tax return perfectly but if you don't provide personal service, they may not be back. Relationships are paramount!
High income potential
Having a home-based tax business can be very lucrative.
The amount of money you can make will depend on your market and how easily you can attract clients. With a tax preparation home business, you will have very little overhead; therefore, you have the ability to charge less than your competition.
An experienced independent tax professional can earn up to $100 per hour
That's $5,000 per week for a 50-hour week, or $60,000 for the 3 month tax season!
You won't likely earn that much during your first tax season because you will still be learning and recruiting new clients. But by marketing effectively and providing excellent client service, you can grow through high client retention and referrals and quickly attain that level of income for just 3-months work, and continue to grow your tax business!
What's even more exciting is that as your business grows through new clients and referrals, your future earnings potential is much greater! Plus, you can enjoy your summers and holidays because most of your business in generated during the concentrated filing season from mid-January through mid-April. Or, you could consider providing other services for your tax clients and generate income year-round!
Additional revenue stream
Due to recent changes in the economy, many people are looking for additional revenue streams in order to maintain their current lifestyles. A home-based tax business can supplement your income, pay the bills, enable you to save for retirement, and more.
Your income tax business can be a stand-alone business offering just tax preparation services, or you may find it to be a complimentary business that can be added to another business that you are already involved in, such as
financial services
insurance
accounting or bookkeeping
Your clients will appreciate having one person that can handle their finances.
A tax preparation business is also great to get into if you happen to work in another field that is also seasonal – but at a different time of the year – such as
retail
real estate
lawn care
travel
A tax preparation business can provide you with a steady income year-round.
Year-round income opportunities
As the trusted tax advisor to your tax clients, you are in the position to provide them with the additional financial services they need. By obtaining the required licenses, you can provide financial services and products such as IRAs, retirement plans, insurance, etc. You can choose from several reputable broker-dealers that specialize in helping tax professionals to meet their clients' financial service's needs.
You can also provide bookkeeping and payroll services for your small business tax clients to produce additional year-round revenue. Thousands of small businesses are started every day and the trend is accelerating due to the large number of displaced workers turning to self-employment.
Other opportunities to generate year-round revenue exist, such as becoming a real-estate broker to take advantage of the inevitable recovery of the housing market in the coming years. Income tax knowledge is a great asset for many financial services professionals and having tax expertise will provide you with a key competitive advantage.
Minimal start-up costs
Starting a home-based tax business can be done very inexpensively. Since you will have very little overhead, you can charge less than your competition and still make a great profit.
Home-based Tax Business Start-up Cost (assuming you already have a PC and printer):
Comprehensive Tax Course, $497, add hard-copy book for additional fee – Updated for 2021
Guide to Start & Grow Your Successful Tax Business, $99-$149
IRS registration to become a Tax Preparer (obtain a Preparer Tax Identification Number (PTIN), $35.95 fee per PTIN application/renewal
Voluntary IRS Annual Filing Season Program, $59-$119
Professional tax preparation software – (lower cost options are available), $500
Tax preparation Marketing and Tax Office Supplies, $500
The main things you will need are:
Tax preparation training
A computer
Other equipment, such as a printer, copier, scanner, fax machine
Internet service
Professional tax preparation software
Office supplies
Business cards
A Preparer Taxpayer Identification Number (PTIN) from the IRS
An Electronic Filers Identification Number (EFIN) from the IRS (no cost)
Consider completing the IRS voluntary Annual Filing Season Program and receive an Annual Federal Tax Refresher Record of Completion
Fast refund products – if you want to offer them
Fast ramp-up time
Starting your own home-based tax preparer business is easier than you think. The most important thing you need is good solid tax knowledge, which is available online, 24/7 with instructor support right here at The Income Tax School!
After successfully completing the 48-hour Comprehensive Tax Course at Surgent Income Tax School, (many finish in just 10 weeks or less) you will be qualified to prepare individual tax returns for almost all U.S. taxpayers. *A California Edition of the Comprehensive Tax Course is available for those needing a CTEC approved qualifying tax course.
IMPORTANT: The IRS has developed a voluntary program for tax preparers to ensure a minimum competency level each year and to continue their education each year. Non-exempt tax preparers who do not complete this program will still be able to preparer tax returns but will not be able to represent their tax clients before the IRS, should an issue arise. Learn more about the Annual Filing Season Program (AFSP).
If you choose to complete the AFSP program, then you must register as a tax preparer and take continuing education each year going forward. Continuing education is a great thing as it will help you increase your tax knowledge and remain current with the tax code. If you wish to prepare business tax returns, you will also need to take a tax course on small business income tax. The Small Business I Tax Course (most students finish in just 5 weeks or less) at The Income Tax School will meet the small business requirements for the IRS exam. Once you are a registered Tax Preparer you will have your own home-based tax preparer business up and running in a very short time!
How to get started with your own tax business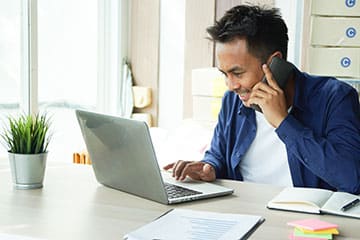 The first thing you will need is a solid foundation of tax knowledge. Surgent Income Tax School offers tax courses online, 24/7. So you can get started right away!
After just one 48-hour Comprehensive Tax Course, you will be able to prepare tax returns for most individual U.S. taxpayers. This tax course can be completed in just weeks! If you want to be able to prepare tax returns for small businesses, then you will also want to take the 30-hour Small Business I Tax Course.
Guide to Start and Grow Your Successful Tax Business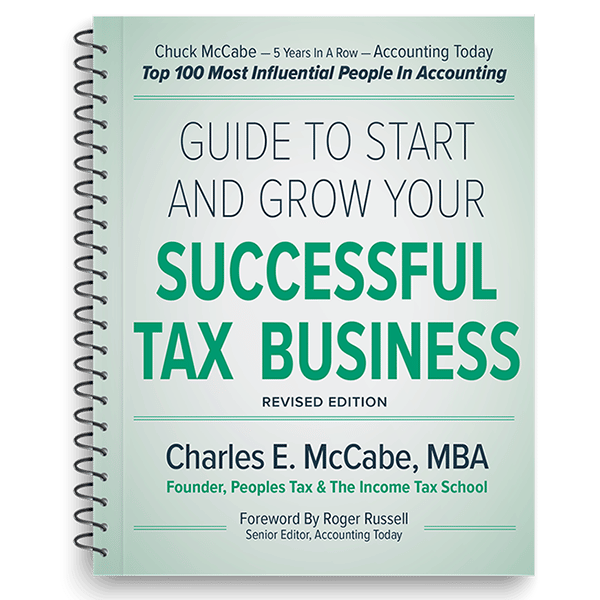 This 319-page book is your go-to guide to getting started with a tax business today!
"One very important thing I have learned over the years is that there is no need to reinvent the wheel. This book is a practical, comprehensive guide that is beneficial for all entrepreneurs planning to operate as either a sole-tax practitioner or a tax business owner employing other tax preparers. Throughout this book, you will learn many best practices that will save you time and money, and help you grow a successful tax business."
– Chuck McCabe
Also Available: Tax Practice Management Manuals to help you compete with the national tax firms!

Tax software options
Choosing professional tax preparation software will depend on what type of tax returns you will be preparing and what you can afford. You can choose anything from a simple pay-per-return package, to a basic tax software package that will enable you to prepare simple returns, to a very advanced tax program that will allow you to prepare all types of tax returns with many bells and whistles. Here is recent blog post that can help you narrow down your options:
How to get your first clients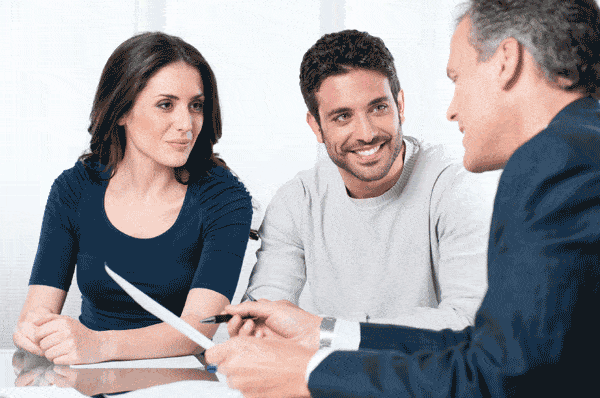 You might be wondering how you will get your first clients. Most people start off by offering their writing services to friends, family members, and neighbors. This is a great place to start because these people already know you and trust that you will do a good job. From there, you can ask for referrals. Offering an incentive and/or discount to clients who give referrals is a great way to increase your business. Having a special offer for new clients also helps.
Another great way to increase business is to start networking. Get out and about and become known as the "tax expert". You can join a group like Business Network International (BNI). It will be important for you to continue your tax education so that you stay on top of the tax law changes and can also handle more complicated tax returns/issues.
Offering to write a tax column and answer tax questions are additional ways to get your name out there. You can learn more about how to start and grow your tax business with Tax Practice Management Manuals available through Surgent Income Tax School.
Launch your own tax business in weeks – No franchise fees or royalties
Step 1

Register and successfully complete the Comprehensive Tax Course.
Learn to prepare tax returns & research tax issues for most Form 1040 individual, non-business taxpayers and small business taxpayers (self-employed/Schedule C). CTEC Approved. Includes Certificate of Completion and FREE AFTR Course.

Step 2

Add the Guide to Start & Grow Your Successful Tax Business to help launch your tax business quickly
Your go-to guide to getting started with a tax business today! Learn more about the guide
"Reading the start-up business guide has been a transforming experience to my business life."
– Nathaniel R. Causley, Jr., J.D. Founder, President & CEO, Global Tax Centers

Step 3

Follow the Tax Business Start-Up Checklist